What is a pressurized tank?
A pressurized tank is sometimes also called a hydropneumatic tank. In a water supply system, each pump must have its own pressurized tank. It's a duo, it goes together.
The pressurized tank is separated into two parts by a flexible membrane called a diaphragm. The top part contains compressed air, hence the "pressurized". The bottom part receives the water coming from the pump.
The operation of the pump is controlled by the pressure in the tank:
As water enters the tank, the diaphragm rises and the pressure in the tank increases.
When the maximum pressure is reached, the pump stops.
The pressurized tank then supplies water to the residence while the pump rests.
As the water level decreases, the diaphragm lowers and the pressure in the tank drops.
When the minimum pressure is reached, the pump will restart and the pump on/off cycle will begin again.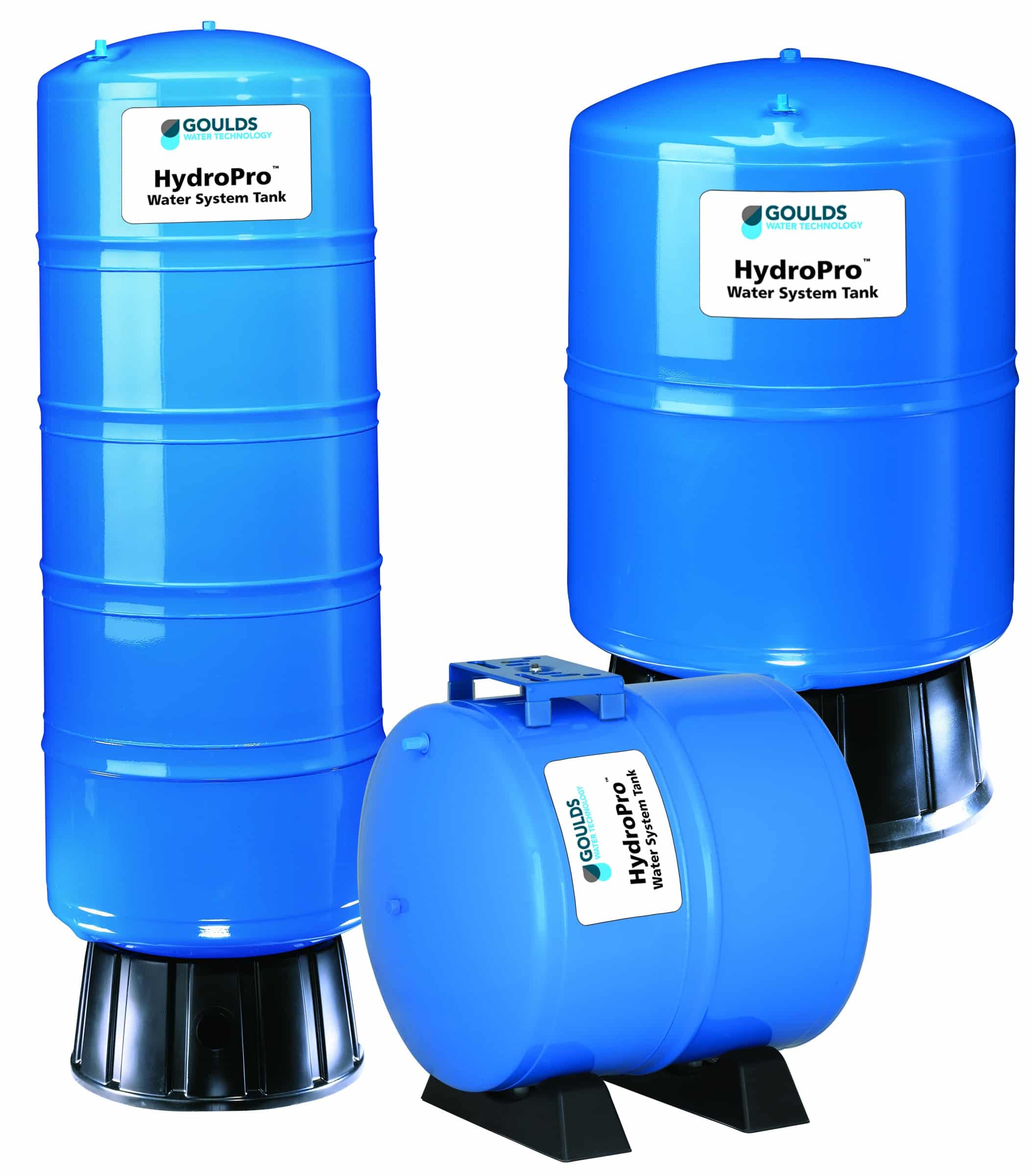 Photo of a variety of pressurized tank sizes.
The main function of the pressurized tank is not to store water. Its role is rather to let the pump rest. In this way, it increases the life of the pump motor and the switch that manages the pressure in the pump, i.e. the pressure switch. It also reduces electricity costs.
The capacity of the tank depends on the flow rate to be delivered by the pump.
The most common pressurized tank has a capacity of 20 gallons (about 75 liters). It has the following dimensions:
A height of 81 centimeters, that is 32 inches
A diameter of 3 centimeters, that is 15 inches
The other two most common tanks are the 14-gallon (just over 50 liters) and 5-gallon (almost 20 liters) tanks.
Other tank capacities are available upon special request.
Goulds HydroPro® pressurized tanks are built to last for many years. Their resistance and reliability are based on the following characteristics:
Thick, impact-resistant outer shell
Adjusted and stable compressed air valve during transport
Inner and outer shells made of heavy duty steel
Rigid polypropylene interior lining
Highly resistant parabolic membrane
Patented membrane attachment system
Corrosion-proof base
Installation: $
Maintenance : $