Water filtration and treatment
Your water has a strange taste, a bad smell, a strange color. It stains clothes and leaves traces in your bath or sink. It damages your pipes or appliances. What else is there? You must drink it while plugging your nose. It makes you feel sick. And, recently, she even started talking?
It's time to call us. No matter what your water problem is, we have a solution for you. And even if your water looks good, call us anyway! It may contain contaminants that are harmful to your health. Don't fool around with it.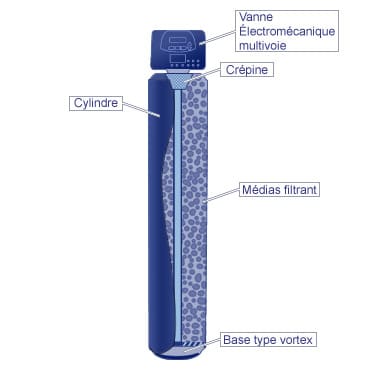 Our team's priority is to offer you certified, efficient and low maintenance water treatment systems.
We offer design and installation, maintenance and repair services for the following systems
X-Factor series Platinium
Viqua, formerly Sterilight and Trojan
We can also maintain and repair the following systems:
Fleck
MAC : MAC MEV 1000, 2000, 3000
At Groupe H2O, you deal with accredited technicians who are members of the Association des entreprises spécialisées en eau du Québec!
In addition, we install certified water treatment systems that meet the standards of the NSF (National Sanitation Foundation).
To learn more about our water treatments, click here
Many solutions are available to you depending on the results of your water analysis and the space available in your home:
Water softener
Activated carbon filter
Catalyst filters
Neutralizing filters
Reverse osmosis
Ultraviolet (UV) disinfection